Carbide Bar Blanks
Adhering to the emerging demands of Carbide Blanks in various industries, Agescan International Inc. accurately blends a specific amount of carbon with less electronegative elements. This chemically bound alloy results in achieving hard, resistive, dense and light weight products that are widely acknowledged for their specialized applications in automotive, firearms, aerospace and other industries. Our company has grown as a leading Carbide Bar Blanks manufacturer, exporter and supplier, owing to its usage of highest grade raw materials and high-tech facilities for productions. Our offered range is highlighted in the marketplace for attributes like hard state, easy drilling of coolant holes, immense prefluting and smooth grinding of different diameters. Our team of expert engineers, technicians and designers possess unmatched knowledge of the domain serving Carbide Blanks. They understand the specific requirements of clients in terms of length, strength, circumference and composition to deliver best-in-class results like Carbide Rod Blank, Tungsten Carbide Drilling Tool, etc. at market leading prices. We foresee towards our clients to avail these from us in desired quantities.
Features
Fabricated with accurately composed metal alloys for excellent performance and longer life. Balanced molds, materials and machinery for sturdy construction, robust designs and splendid finish. High strength, hardness, efficiency and dependability.
Specifications
Our carbide rods are HIP-sintered and Extruded, the regular sizes are as below: Unground (without grind): from Dia.3mm to Dia.32mm, length 330mm. Grind: from Dia.3mm to Dia.28mm. Other sizes and products are also available as per our customers' needs.
"DOWNLOAD OUR AGESCAN TUNGSTEN CARBIDE AND DIMENSION TABLE SHEET"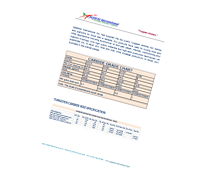 ---